Sam Gerrits, Eric Smit, Follow The Money, FTMFront-end web developerPianistMuziekmaatsoort herkennenop reis met de KameleondjJob Sanders
digital presentations in various forms. Interactive documentaries, explanimations, real time animations, and more.
dwars­huis
Vi­suals that con­vin­ce
Global Investigative Journalism Network: "This Week's Top Data Journalism. Dwarshuis illustrates the Airbnb phenomenon in Amsterdam since the company launched[…]"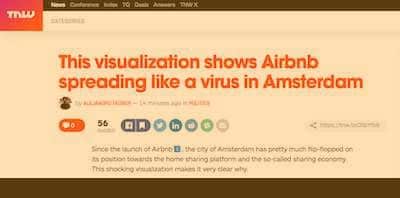 "[…]that stance has completely reversed – and thanks to this visualization by Dutch data visualizer and animator Kor Dwarshuis, it's not hard to see why."
"La rápida expansión de Airbnb en Barcelona, en un mapa temporal"
NOS news
Airbnb animation used in Dutch public broadcasting news.
Portfolio
Airbnb: See how Airbnb developed in major cities through the years.
More:
---
Fossil Fuels: See how the largest gas field in Europe turned into a disaster.
History Groningen Gas: How the largest gas field in Europe turned into a disaster.
Richter in Groningen: Why shallow earthquakes in Groningen are so destructive:
Realtime earthquakes: Shallow earthquakes in Europe's largest gas field:
Blockchain technology: a new technology.